Fishing
THE COOK Islands offer exceptional opportunities for deepsea game fishing as well as saltwater fly and light tackle sports fishing. Both Rarotonga and Aitutaki remain virtually undiscovered by the world's sea angling fraternity, much to the delight of aficionadoes who have been keeping the secret safe for the past 30 or so years.
A bonus for visitors from July to October is the strong possibility of seeing humpback whales which often come very close to Rarotonga's shoreline on their migration route north from the Antarctic. Sometimes these whales will breach and those lucky enough to witness this will have another permanent memory of their trip to the Cook Islands.
Deepsea game fishing is a speciality in Rarotonga and Aitutaki. Both enjoy the advantage of immediate access. There is no tedious journey to the fishing grounds, once out of the harbor the fishing begins. Big fish of many species are abundant. The currents, reefs and submarine topography supply ideal conditions for wahoo, barracuda. dolphin fish, yellowfin and skipjack tuna, sailfish and marlin. The Cook Island record for marlin is 616 lb (280 kg).
Aitutaki's magnificent 12,500-acre lagoon is particularly suitable for fly, lures or bait for world class bonefish, trevally, cod, snapper and other reef fish. It holds the world all-tackle record for Hump Head Maori Wrasse, set in October 1989. Both Rarotonga and Aitutaki have game fishing clubs at which visitors are made very welcome – phone the Cook Islands Game Fishing Club on 682 21419. The clubs are affiliated to the International Game Fishing Association.
Fishing trip operators cater both for novices and experienced anglers. The charter boats on Aitutaki and Rarotonga are fully equipped with up-to-date safety gear and can handle between four and six lines. Rarotonga has two fully equipped game fishing cruisers for charter as well as smaller boats. Aitutaki is also well catered for; the Aitutaki Pearl Beach offers fishing trips led by a resident professional. The Vaikiore Fishing Charter on Aitutaki offers specialised bonefishing inside the island's giant lagoon. Contact is Jubilee Reu. Air Rarotonga flies daily between Rarotonga and Aitutaki.
Diving
A DIVING tour guide from Britain, who runs a diving tour business out of Britain and who has led diving tours all over the world including the Indian Ocean and off Honduras in the Caribbean, describes Rarotonga and Aitutaki as some of the best scuba diving locations he has ever come across. John Byatt believes the Cook Islands is completely undiscovered as a diving location.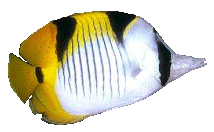 The year-round warm water with temperatures of between 23º and 30º, the easy accessibility and the circular shape of the island of Rarotonga allows divers to go out in virtually any weather to take advantage of shelter from rough wave action. There is a huge variety of coral and splendid visibility of 100 to 200 feet. There is a wide range of diving sites including caves, wrecks and simple submarine terrain for beginners such as sand rivers.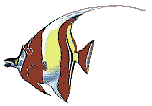 Favorite dive spots to name but a few are the Ngatangiia Swimthroughs, the Matavera Drop-Off, the Mataora Wreck, the Papua Canyon, the Sand River and the Koromiri Coral Garden. The abundant reef life among 73 types of live coral features hundreds of fish species, a bonanza for underwater photographers. Experts rate the reef drop-off as the highlight for divers off Rarotonga. This begins at about 100 feet and plunges down to 12,000 feet -- Rarotonga is an extinct volcano.
Scuba beginners can choose three-hour dives to introduce them to the sport. Students can select different types of certification. Training is available on Rarotonga and Aitutaki. All the dive companies have equipment for hire but it is wise to bring one's own snorkels, masks and fins. Operators are Cook Islands Divers phone 682 22483, Dive Rarotonga phone 682 21873, Pacific Divers phone 682 22450, The Dive Centre phone 682 20238, Adventure Cook Islands - Reef to See phone 682 22212 and Aitutaki Scuba phone 682 31103, Dive Aitutaki phone 682 31537.
The research vessel Bounty Bay carries visitors from Rarotonga to Manuae, Takutea, Palmerston and Suwarrow as part of its Pacific Expeditions venture and specialises in diving, eco-tourism and filming. See more on scuba diving.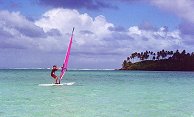 Snorkelling (see also Rarotonga) is the most popular form of diving in the Cook Islands, specially for those without the time or interest to learn scuba. Sailing, windsurfing and surfing are all popular sports on Rarotonga. The lagoon at Ngatangiia is the spot for sailing catamarans and sailboards. The best places for traditional surfing are off Avatiu harbor in Avarua and at Matavera although these are somewhat limited.

More on Scuba diving on Rarotonga