Diving on Rarotonga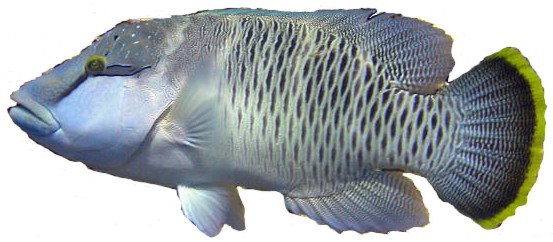 WHAT CAN you see? Well, they are not seen too often under water, but the graceful humpback whale chooses the waters of Rarotonga to rest with her calf on her migration back to the colder southern waters. There is a lot more, however. Over 70 species of colourful coral, moray eels, reef sharks, lion fish, turtles, maori wrasse, anemone fish, butterfly fish, angel fish, eagle rays, puffer fish, trumpet fish and many, many more!
The waters surrounding Rarotonga offer a year round comfortable temperature from 23° C to 29° C (73° F to 84° F) depending on the time of year. Visibility is nearly always great, often upwards of 20 metres (60+ feet).
For qualified divers there are sites suitable for all levels of training and experience from coral gardens to drop offs, and wreck dives to caves. All qualified dives on the island are boat-based dives since the surrounding reef limits shore diving to the shallow lagoon. Dive sites are available on all sides of the island with the boats exiting through the reef at one of four locations, allowing short boat journeys. Most of the diving is conducted with boats leaving via the main passages at the north of the island. These are the main harbour, Avatiu and the smaller Avarua harbour. Dive sites in the south of the island are reached with a beach launch out of Rutaki passage and some dives leave from the often windswept south eastern Avana passage on calm days.
For the average holiday diver who likes easygoing fun dives, the sites around the north and north east of the of the island are preferable. One of the best, 'Paradise', is an 18 metre dive north of the island that offers a good dive time, some of the best coral on the island, large numbers of reef fish, along with little, or no, current. More experienced divers will enjoy these sites too, along with sites to the east and west of the island.
The western sites offer deeper coral dives between 18 and 30 metres depth, along with some interesting volcanically formed shallow caves that are safe to dive on really calm days. There is also one of the three wrecks available on the island round the western side, the 'Maritime Reefer' lying in 26 metres.
From the north-east round to the eastern side of the island, with its reef in closer to land, there some interesting drop offs where the more experienced diver can swim on the edge in 18-24 metres with the bottom dropping off into the depths below. Sites such as 'Sand River', 'The Gap' and 'Matavera Drop Off' can offer some amazing views out into the blue where larger game fish can sometimes be seen, along with the occasional white tip reef shark.
Round the south of the island the dive sites are based in the passages where there are natural breaks in the reef, as the surrounding coral is pretty barren. Being passages, visibility is often not so good and the current can be very strong, making it impossible to get up the passages safely. Therefore these sites are only suitable for the experienced diver. They can be either excellent, or hit and miss depending on luck and the state of the tide. On a good day you can see grey reef and white tip reef sharks at 'Avaavaroa' and 'Papua' along with eagle rays. On an off day, excitement may be limited to seeing a couple of fish. As four out of 10 dives are hits, best advice is to give it a go if you love sharks and have plenty of dives to do, or give it a miss if you don't!
Of course, all dives and sites are dependent on weather and are specially dependent on the wind speed and direction, so you will more than likely be limited to a particular side of the island at some point during your stay.
Learning to dive
Rarotonga is an ideal place to learn to dive and many new divers are released on the world each year after learning to dive on the island. Most travellers opt to complete the PADI Open Water course that qualifies them to dive to 18 metres with a buddy. This is generally a four-day course and involves considerable theory along with the fun part, the diving!
All four operators on Rarotonga offer courses. Do your best to ensure you get value for money. A short course, or a course which does not include any theory and preparation beforehand may result in you missing some useful skill. Also, ask where the initial part of the course will be taught. On Rarotonga the lagoon is often not much deeper than neck height and it can be difficult to learn in such shallow water. Ask the school you choose what provision is made for practising getting into deep water, as you would from a boat. Some operators keep their instructor/student ratios low to increase safety and comfort. Make sure the dives and sites that you are going to do as part of the course are suitable. For course dives, the conditions should be fairly calm with dives to a maximum depth of 12 metres for dives 1 and 2 and 18 metres for dives 3 and 4. Obviously passages, caves, drop offs and swim throughs are not suitable.
Safety
Safety is important. Unlike most countries, it is not law in the Cook Islands for dive boats to be manned during dives. You might want to check whether someone is to be left on board for safety while others are diving. There are no recompression facilities in the Cook Islands so it is wise to pay particular attention to depth and time limits. Above all, always dive within your training and experience.
Although diving is a safe sport it is worth bearing in mind that most insurers will not cover you to dive beyond your certification level. For seven out of 10 divers who visit the Cook Islands that is 18 metres and shallower.
Back to Seas Sports page
This page also in Polish
This page also in Portuguese.