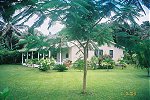 Exterior view. Click for big pic.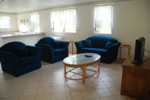 Living room. Click for big pic.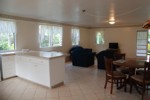 Living/dining room. Click for big pic.
The Palms
LOVELY TWO BEDROOM one bathroom house in a garden setting in Vaimaanga. Previous guests will remember this house with only one bedroom, but the second bedroom is now available for use. House has a fully stocked kitchen with all crockery and utensils included. The quiet front covered verandah is a great place to curl up with a book. The house is 100 metres from Wigmore's Superstore open seven days a week, and 300 metres from Palm Grove resort and The Yellow Hibiscus restaurant and bar.
Palm Grove manages The Palms, and complimentary daily tropical breakfast buffet at Palm Grove and complimentary use of Palm Grove's property facilities is included in the nightly rate. The house is serviced daily (towel change only on Sunday). Nightly rate is NZ$175 for two persons, and $45 per extra person (maximum four persons). Stay seven nights and only pay for six nights!
For information and availability contact The Palm Grove Resort at beach@palmgrove.co.ck

Kitchen. Click for big pic.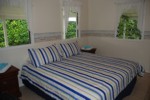 Master bedroom. Click
for big pic.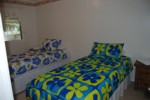 Bedroom. Click for big pic.